WelcomINg and TraiNING of international
high-level post-docs in Normandy
FELLOWSHIP PROGRAMME
Short Guide call #1
5th July – 17th October 2021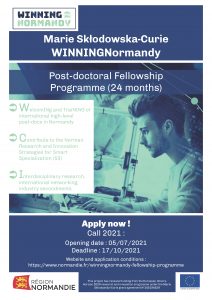 ---
The WINNINGNormandy Fellowship Programme will foster the research excellence and innovation activities, and increase the international attractivity and influence of the Normandy Region in France by recruiting 40 two-year postdoctoral fellowships in two calls. This project has received funding from the European Union's Horizon 2020 research and innovation programme.
Overview
Normandy region, situated in the North-West cost of France with 3.3 million habitants, is one of the most visited French regions. It is a very important and dynamic economic area for the country with its several sectors of excellence and innovation such as health, agri-food, energy, chemistry and automotive, naval and aeronautical construction.
To promote attractive research careers
The WINNINGNormandy – WelcomINg and TraiNING of international high-level post-docs in Normandy programme aims to promote attractive research careers in the Normandy Region in France by funding individual-driven research training and career opportunities for Experienced Researchers (ER).
Post-doctoral Fellowship Programme (24 months)
40 fellows (2*20) selected in 2 calls (2021 and 2022)
3 I : Interdisciplinary research, International networking, Industry secondments
An ambitious training program in the identified smart specialisation areas as well as hands-on knowledge in non-research oriented transferable skills necessary for future research leaders
Contribute to one of the 6 areas of specialization (with one transversal "digital") of the Norman Smart Specialisation Strategy (S3).
→ Winning Normandy – Short Guide call #1 → En savoir plus
---
Opening date : 05/07/2021
Deadline : 17/10/2021